Betsoft
There is so much truth in the statement that is" quality and not quantity" that matters, especially when it comes to Betsoft gaming. Betsoft is not even close to being the largest software provider on the internet today but that does not detract from the outstanding quality and uniqueness of every single game that is Betsoft produces. Betsoft is considered the leader in 3D gaming with its incredible range of multi payline slots games that introduce three dimensional characters to the screens that literally pop out at the players. Every single slots game tells a story and has an animated movie as an introduction. There are classic 3D slots games such as Once upon a Time which is a magical trip into the land of fairies and wizards and there are action packed 3D slots games such as Heist. One of the favorite games of many is Paco and the Popping Peppers where players see a comical side to their slots game. A Night in Paris will remind many players of a famous comedy movie with Peter Sellers. New games are added on a regular basis which players are welcome to try out for fun or practice before they place the real money bets.
What Betsoft Offers to Casinos and Their Players
Slots, although the main product of Betsoft Gaming are not the only games offered. There are many table games to choose from to and these include all of the classics such as Blackjack, Roulette, Video Poker, a 3D Poker game and even specialty games that include Keno and lottery games. All of the games offered by Betsoft are approved by the TST board (technical systems testing) for online and land based games so players are assured that they are getting the best. In addition to the games Betsoft also offers a comprehensive back office system for casino management together with bonus systems and lobby plans for all casinos that choose to make use of their games. The bonuses are updated and added to on a regular basis giving players value and variety, ranging from sign up bonus offers to VIP rewards and clubs. Customer service and support for all casinos and players is provided around the clock by a support team. There may only be about 100 games to choose from but that does not detract from the incredible value and attention to detail and uniqueness that every Betsoft game holds.
Shortcut to Betsoft Slots
Betsoft slots whether you spin them on your home PC or on your mobile device are a blast and deliver outstanding 3D graphics and animations, stacks of superb high paying features and so much more. Here we take a look at some of the more popular Betsoft slots titles, and each one is ready to spin right now in a quality Betsoft online casino.
Heist Slot Review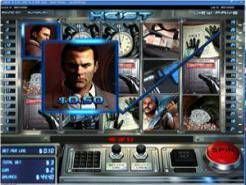 From Frank Sinatra and Sammy Davis Jr.'s Ocean's 11 Bank Robbery Classic, the Betsoft desktop and mobile slot game brings you all the fun, all the perks and the bonus games of a sensual illicit affair. This 5 reels to 30 paylines' slot possesses all the iconic symbols of the Grand Theft premise, including Diamonds, Safe Box panels, Bank Notes and Suitcases filled with high-denomination bills. If Heist has become a well-established player favorite, it is because it guarantees endless hours of fun and very promising cash rewards. The In-Game Bonus features combine drill scatters (for abundant payout multipliers), glass cutters (free spins +), expanded Wild Reels and the supreme Bank Heist, for a chance at the loaded inner vault. Get 3 or more Bank Vault symbols and get a shot at the special Vault Bonus Round; lots of bankable riches at the grasp of your unlawful hands!
Mr. Vegas Slot Review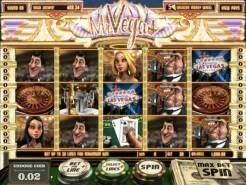 Mr. Vegas is your quintessential ladies' man success story, living the grand life in Vegas and keeping the company of the most attractive and glamorous show girls. Sin City has lots of fabulous treats to be enjoyed, and Mr. Vegas is willing to share the wealth with All of Us! – This Betsoft Slot is packed with all the classic Vegas iconography as symbols, including Mr. Vegas himself, his Entourage,Playing Cards, Poker Chips, and of course, the LAS VEGAS sign. The Desktop and Mobile versions of Mr. Vegas slot game feature a powerful graphics package, filled with all the glitter and spectacle of the original Vegas venue; the sound effects are literally Ka-ching Ka-ching! With plenty of additional In-Game Bonus Features, this Las Vegas feel slot promises a lot of juicy rewards in every direction: if you can land the dice symbols on either side of the Mr. Vegas symbol on paylines 1, 2 or 3 you'll be rewarded with extra free spins; a special mini-slot game opens up with 3 or more Slot Machine symbols. Get a shot at the Progressive Jackpot with the help of Mr. Vegas! Lots and lots of winning opportunities and good jolly fun.
The Slotfather Slot Review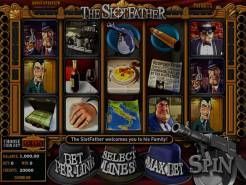 Organized Crime has a new Kingpin. The Slotfather slot game is Betsoft's most innovative take at the popular Godfather theme, packing awesome graphics and juicy bonus games + progressive jackpots. This 5 reel by 3 rows, and 30 paylines plays to some classic Italian-sounding music, and embodies the feel of the golden age of Mafia Life, with symbols that include a Briefcase of Money,Gangsters, Wine Bottles, Machine Guns, Delicious Pasta, a Cigar and even a Map of Old Italy! Go to the Mattresses! While you won't find a Wild Symbol in this one, you'll get plenty of other winning games; landing the Sneaky Gangster symbol next to the Money Briefcase, on paylines 1, 2 and 3 will give you instant wins. Additional spins will come with the Old Gangster and Machine Gun Symbols appearing next to each other on the aforementioned paylines; the more Slotfather Symbols you find, the better your chances to get an invite for the massive Progressive Jackpot game. The Underworld's Profit is Up for Grabs! Do you have what it takes to rule the mobster universe?
Rooks Revenge Slot Review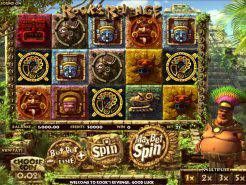 Betsoft brings the splendor and riches of the Mayan Empire to your desktop computer and mobile devices. Rook's Revenge plays like a Classic 5 Reel by 3 rows and 25 fixed paylines, loaded with excellent bonus games and original Native-American symbols from the depths of Guatemala's Jungles: mostly ancient rock-carved images of Mayan Gods, in different shapes and colors. An obese man with a feathered top will be your host for the archaeological dig. The Bonus symbol is represented by a Golden Mask, very apropos! – The Wild is also a fitting shape: a question mark, with glittering jewels encrusted, will be your lucky marker. Rooks Revenge features several attractive mini-games, including a Tetris-like experience in the Exploding Symbols Special. By simply landing the preset winning lines, the block combinations will explode in your screen and free up space for additional holy blocks to fill up the vacant spaces. The more winning combos you get, the more crazy bursts will occur, filling your bounty pot with luscious wins. By landing Golden Masks on any winning lines you'll trigger additional Free Spins. Even if simple in appearance and play-through, Rook's Revenge takes you back to times immemorial, for a golden shot at legendary riches!
How many Betsoft new slots are released each year?
Betsoft is one of the leading – and arguably most familiar to many players – software developers around today. They regularly create new games to play, with titles coming out most months of the year. Sometimes, you might see a couple new releases in a month, although they can be released on different days. If you visit the Betsoft website, you'll often see news of the forthcoming Betsoft new slots that will soon be added to their collection. This provides you with a good way to find some great games to play, and a chance to be one of the first to play a brand-new game few others have tried. One point to note – if any of their new slots have progressive jackpots attached, they won't be that big to start with. However, since Betsoft new slots are always popular, chances are the amount will climb high in a short space of time.
Keep an eye out for the best Betsoft bonuses at online casinos
Who wants some Betsoft bonuses? Lots of casinos feature Betsoft games, and those that do are also likely to feature bonuses associated with them. For instance, whenever a new slot is released, casinos want to attract attention to them. They want to reel in the players to give the new game a try. So, one of the best ways to do this is to offer some free spins on that game. To qualify, you will usually only need to enter a coupon code (provided by the casino) to get your free spins. There might be wagering requirements on these, or a capped amount you can win. Another possibility is a bonus when you make a deposit. For example, this won't usually be a first deposit bonus, but a special bonus that gives you a free chip you can use to play the games. Watch out for coupon codes relating to Betsoft bonuses no matter where you go online. Has your favorite casino got one or more great offers like this to be claimed?
Want to try for some prizes in Betsoft tournaments?
Betsoft games are popular for lots of reasons. Many of the newest titles are presented in 3D, making the experience way more immersive than it might otherwise be. We think they're also terrific at choosing fun themes to enjoy. Maybe those are some of the reasons why Betsoft tournaments are very popular. They feature some of the best slot games around, and these naturally attract a lot of players. Since casinos want to drum up attention for their tournaments, what better way to do so than to choose a Betsoft slot to help?